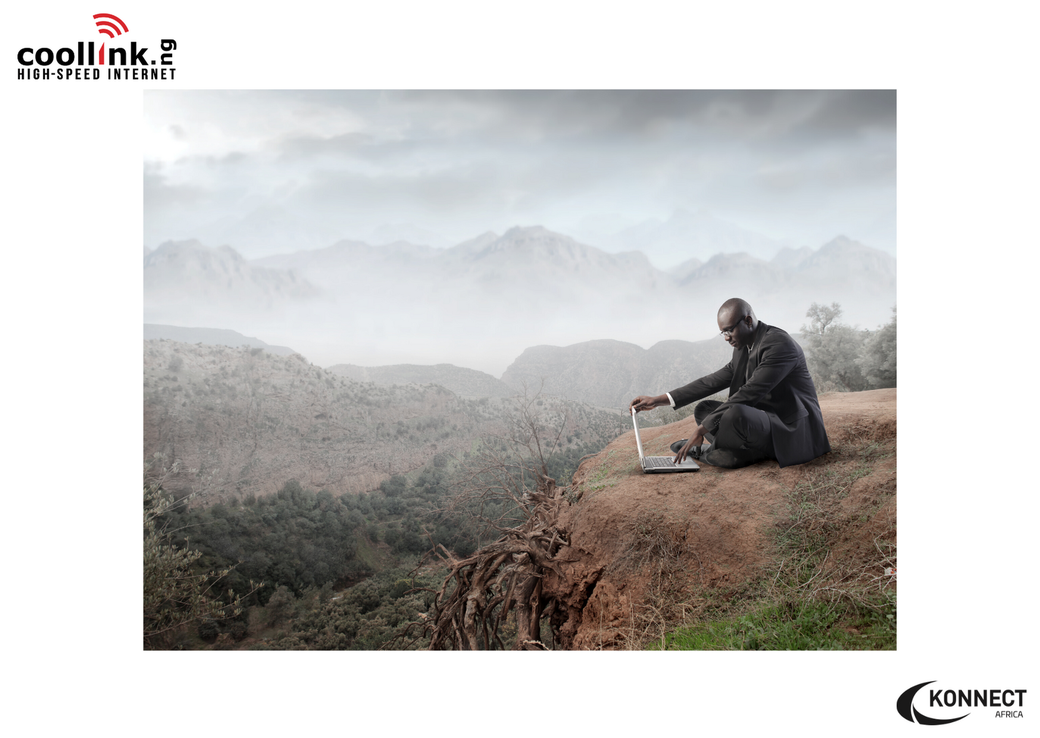 Asta is a joint project between Coollink.ng and Konnect Africa, an initiative of the satellite operator Eutelsat dedicated to satellite broadband in Africa. It is Nigeria's answer to the growing 'Digital Divide' where a large percentage of the population is still deprived of internet infrastructure.
Asta is an ambitious project that covers all areas of Nigeria with the ambition of providing high speed internet connection. Asta Internet Broadband covers industrial parks, free trade zones, villages, farms, and anywhere your imagination can take you.
Asta Satellite Broadband is compatible with any ERP solution (SAP, Microsoft Dynamics, NAV, Sage, Orion, and so on) with the help of applications like Go-Global or CITRIX. This allows Enterprise clients to deploy mission critical ERP applications in virtually any location, even if it isn't connected with a fiber network.
More importantly, Asta is an extremely affordable solution that boasts an uptime of at least 99.5%, which minimizes revenue losses due to downtimes. Asta also brings its users a slick customer portal that lets them customize their internet connections through one dashboard. Subscription fees start as low as N5,500 and would benefit industries of all sizes.
You can monitor your bandwidth consumption, upgrade or downgrade services, and renew your subscription without ever having to call anyone.Furthermore, you can restrict or enable heavy data consumption protocols such as peer to peer networks, updates, and streaming.
Asta has a helpful and reliable team of customer representatives who are available to answer all your questions round the clock, 24 hours a day, 7 days a week. They can be reached at this number: 01 271 02 53.
How Does Asta Work?
Asta provides lightning fast internet speeds of up to 20 Mbps to users. The internet service is delivered using the High-Throughput Satellite (HTS).  Unlike other satellites that only deploy only onebeam to cover entire regions and cities, HTS sends out several beams to increase bandwidth and improve efficiency by up to 20 times!
Asta's broadband satellite system comprises of a Gateway, a Satellite, and Customer terminals. The satellite links the gateway to the internet. In other words, your internet is no longer dependent on fiber cable, power outages, or defects in terrestrial infrastructure.
Who is Asta for? 
People who live in urban areas where other internet options are too slow
People who are unable to get fast internet because they live in remote or urban area
Businesses that experience frequent losses to their revenue due to constant internet downtimes 
Why Should I Get Asta?
Asta is extremely quick and offers download speeds of up to 10 Mbps to over 20 Mbps. Standard packages start at 5GB to 500 GB monthly with free night browsing between 12 AM to 6 AM, virtually giving users an unlimited connection for just N5,500.
Asta is extremely affordable for both students and businesses alike, plus, you can scale service when you want to.
Asta is simple to install and installation takes between 2 to 3 hours only. Once you are connected, you no longer have to deal with any third party. Simple manage your account through our online portal which is easy to use and understand. 
How Does Asta Work So Efficiently?
Suppose you're on your smartphone and you visit your favorite website your request goes to your Asta modem, and then through a short cable, to a small satellite dish (antenna) outside your house.
The dish uses its antenna to beam the request to the Asta satellite.
The satellite then sends your request down to the gateway station connected to our ground network.
The station then sends the request to the website.
The website delivers the information to the satellite, which sends directly sends it over a beam to you.  
Free Browsing?
You read that right. Asta offers free night browsing from 12 AM to 6 AM and lets you stream DVD quality videos from 240p to 480p and nonstop downloads.
What Devices do I need? 
You will need a small satellite dish, which is the same size as any regular satellite TV dish. An Asta technician will help you choose the best location for the dish, such as the side of your home or the roof. You will need an official Asta satellite dish to use Asta internet. A normal satellite TV dish will not work. 
You will also need an Asta modem, which is no larger than a book. This modem does not have wireless connectivity, but you can use a separate wireless device if you want to browse the internet without being connected to the modem. 
Increasing Connectivity Across Nigeria 
Businesses that are struggling to stay connected to the internet can rely on Asta to deliver internet in areas where broadband service is nonexistence. This is possible because of the use of tiny satellite dishes that can be installed in the most difficult of areas. Nigeria can expect an increase in low cost internet connectivity which will generate employment, help with education, grant communities in rural and remote areas access to eLearning platforms, and further cultivate the SME customer base.
Now you can set up shop anywhere in Nigeria and beyond, you can connect all your critical business applications such as point of sale transactions, file transfers, email, voice over IP, IoT connectivity, and so much more.
This may prove especially useful to farmers, medical offices, retail chains, or other typesof businesses. You now have vastly superior broadband capacities to help you keep up with operations. Asta is the first satellite of its kind in Nigeria that can guarantee internet uptimes of at least 99.5 percent.
The best part is that you no longer have to wait several weeks to have the internet installed. You can have the internet installed in just 3 to 5 days after placing the order. Asta has got you covered!If you are not satisfied with existing solutions including 3G, 4G, or Fiber networks, you should hop on board and give it a spin! Click here for more details.
You can also contact us by email at sales@coollink.ng or reach out to us over phone at 0908 799 58 21.
www.coollink.ng